I was interviewed for a couple of podcasts last week and the interviewers, the "Keto Dudes", were particularly interested in the PURE study (Ref 1). I wrote a post on that last August (Ref 2). One of the most interesting findings from the PURE study was that it gave us global empirical evidence for protein intake across many different diets in 18 countries and 5 continents. The podcasts also covered the work I've done on dietary fat guidelines. Then a thread in our club about butter got lively. Putting the three themes together has made for an interesting, possibly controversial, Monday note…
When I submitted this paper (Ref 3) for peer review, one of the comments that came back was "what's the reference for the claim that protein is approximately 15% of natural diets?" It was a good point. The answer "it just is!" (because I have analysed so many diets and seen the constancy of 15% each time) rightly wasn't going to appease the reviewer. I thus added the Gordon/Wardlaw nutrition 'bible' reference, which gives examples of typical daily diets showing that protein tends to be close to 15% in the different examples (Ref 4). The PURE study confirmed the small variation in protein intake in a wide range of diets. Five of the seven regions, covering 75% of 135,000 study participants, had protein intakes of between 15-17.5% of energy intake. Africa and south Asia had slightly lower protein intake: 13.4% and 11.6% respectively.
Macro nutrients
There are three macro nutrients. We know them as carbohydrates, fat and protein. These are the parts of food that deliver energy, which we measure in units called calories.
In 1977 in the US, and in 1983 in the UK, dietary fat guidelines were introduced. The two key guidelines were that we should consume no more than 30% of our daily calorie intake in the form of total fat and no more than 10% in the form of saturated fat (Ref 5). The important corollary, with protein staying fairly constant, is that setting a total dietary fat guideline of 30% means that a carbohydrate guideline of 55% has inevitably also been set. For the avoidance of doubt, the 1977 report "Dietary Goals for the United States", spelled out the implication of the fat guideline: "Increase carbohydrate consumption to account for 55 to 60% of calorie intake" (Ref 6).
Current Dietary Guidelines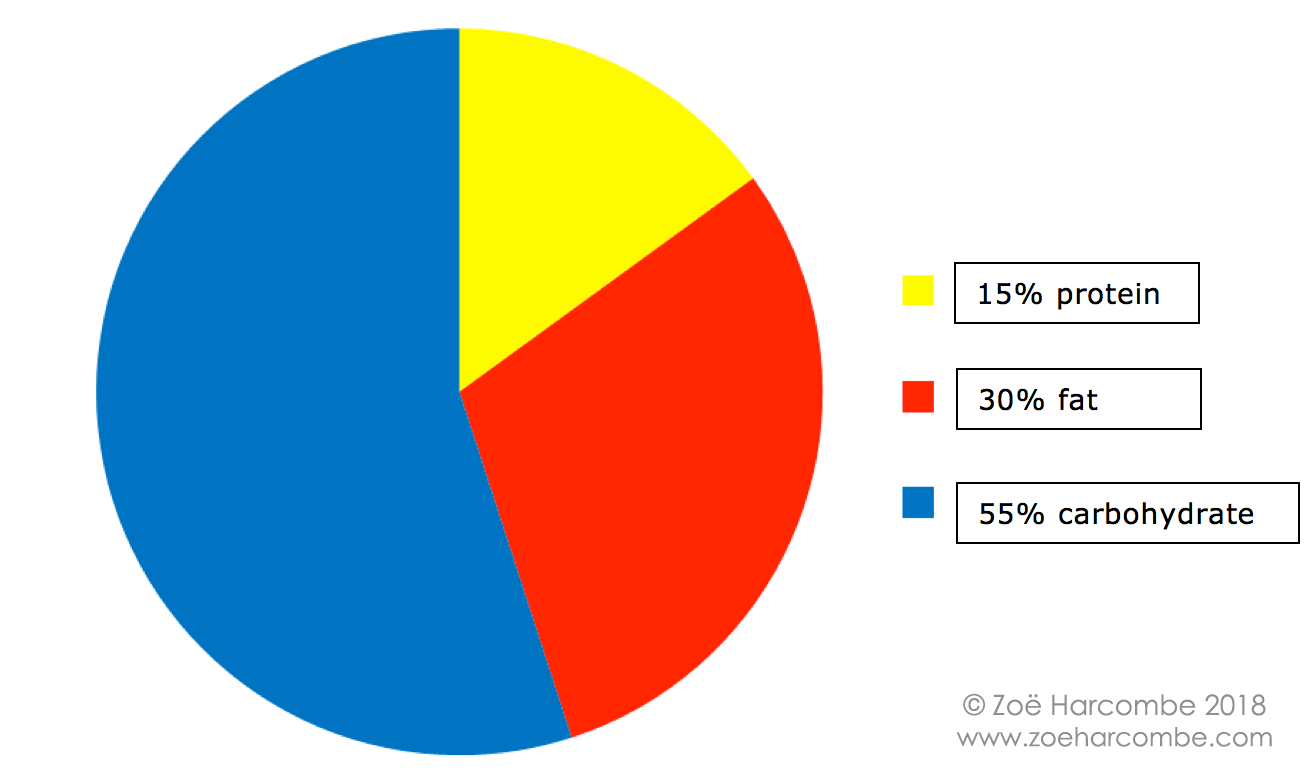 The constancy of protein means that setting a fat maximum creates a carb minimum and, equally, setting a carb maximum sets a fat minimum. However, this doesn't mean that we should do unhealthy/unhelpful things for the sake of it – just to achieve certain macronutrient ratios. We can drive the proportion of fat in our diet even lower by eating more carbohydrate. Equally, we can drive the proportion of carbohydrate in our diet even lower by eating more fat. Are these good ideas 'for the sake of some ratios'?
LCHF
If protein remains approximately 15%, choosing to set a carbohydrate upper limit of 5% of daily intake implies that the remaining 80% will be consumed in the form of fat – as shown in the pie chart below: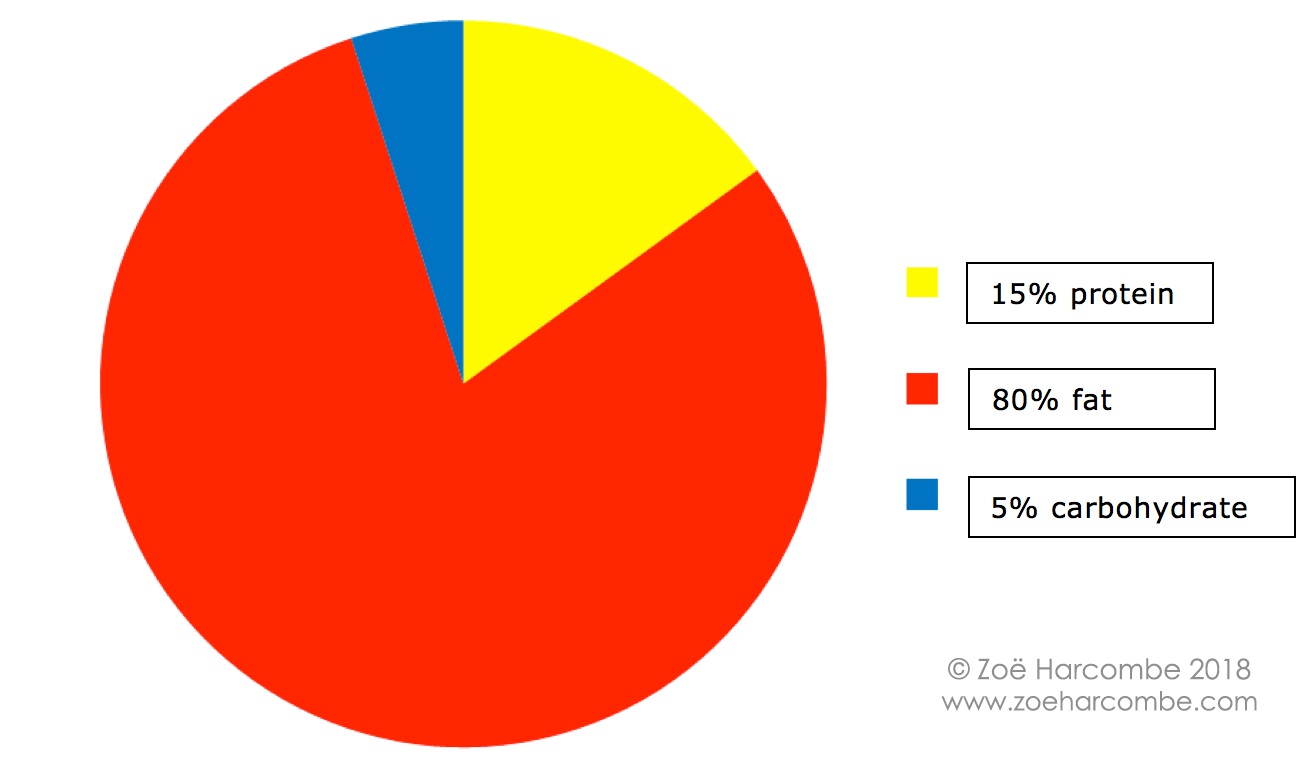 However, and this is where butter comes in, consuming a diet with the macronutrient ratios 5% carb, 15% protein and 80% fat can be quite unnatural. It involves adding dietary fat – the palatable options are usually butter and/or coconut oil and butter is generally more readily available.
A typical LCHF day


Let us assume that someone is trying to follow what I call 'hard-core' LCHF – macronutrient ratios of 5% carb, 15% protein and 80% fat. A person could pick any one of these and the other two macronutrients would be determined by the ratios. e.g. Most commonly LCHF people limit carbohydrates by grams. If a person sets a carbohydrate intake of 25g (grams) a day, carbohydrate has approximately 4 calories per gram, so 100 calories of carbohydrate would be consumed. If this is 5% of daily intake, then total intake is 2,000 calories. 15% of those 2,000 calories (300) would then come from protein (75g of protein at approximately 4 calories per gram) and 80% of those calories (1,600) would come from fat (178g of fat at approximately 9 calories per gram.)
The Optimal Diet, which I covered here (Ref 7), uses protein as the starting point. The ideal protein intake was calculated by the creator of The Optimal Diet, Jan Kwasniewski, on the basis of what he called "due body weight". Due body weight, in kilograms, is estimated as a person's height in centimeters minus 100 (± 10%). Thus, for a person 160 cm tall, a due body weight is 60 kg ± 6 kg. Kwasniewski then used the usual approximation that people need 1 gram of protein per kilogram of body weight to establish that the 160cm person needs 60 grams of protein ± 6 grams. The due body weight takes into account the protein need for where we want our weight to end up – not where it is now. (Taking height in cm and subtracting 100, by the way, is a pretty good rule of thumb for getting a weight in kg in the normal BMI range.)
The Optimal Diet used the protein intake in the following formula to establish what the intake of carbohydrate and fat should be:
1 gram of protein : 2.5-3.5 grams of fat : 0.5 grams of carbohydrate. (A fat range was given to allow for more active/slimmer people needing more energy).
A worked through example of The Optimal Diet, for a person 160cm tall, is shown below (using the lower fat range):
Example – lower fat range (2.5x)
| | | | | | |
| --- | --- | --- | --- | --- | --- |
| Breakfast | Grams | Cals | Carbs (g) | Fat (g) | Protein (g) |
| 2 large eggs (Ref 8) | 100 | 143 | 1 | 10 | 13 |
| Bacon (Ref 9) | 50 | 209 | 1 | 20 | 6 |
| Milk, whole, 3.25% (Ref 10) | 200 | 122 | 10 | 7 | 6 |
| Lunch | | | | | |
| Butter, without salt (Ref 11) | 90 | 645 | 0 | 73 | 1 |
| Dinner | | | | | |
| Lamb (Ref 12) | 175 | 506 | 0 | 42 | 29 |
| Broccoli, raw (Ref 13) | 100 | 34 | 7 | 0 | 3 |
| Cauliflower, raw (Ref 14) | 100 | 25 | 5 | 0 | 2 |
| Beans, green raw (Ref 15) | 100 | 31 | 7 | 0 | 2 |
| TOTAL (may be rounding errors) | | 1,715 | 30 | 151 | 61 |
| Target (lower fat range) | | 1,710 | 30 | 150 | 60 |
| As a % (macronutrient ratios) | | | 7% | 79% | 14% |
The Optimal Diet formula, using the lower end of the fat range, delivers a diet made up of 7% carbohydrate, 14% protein and 79% fat, which is close enough to the 5% carbohydrate, 15% protein and 80% fat in the pie chart above. You can see from the table that very little veg is consumed, which provides the carbohydrate. Meat needs to be richer in fat than protein (fish/chicken don't feature in 'hard core' LCHF). Three normal meals a day is not really possible with carbohydrate and protein restriction and butter (or another fat) needs to be consumed to get the fat intake close to 80%. (The butter would likely be added to breakfast/dinner and lunch skipped).
Butter – nutrition
I'm aware that I'm about to head into controversial territory. Butter is seen as a health food in the LCHF community and I don't even think of it as a food. It is absolutely one of the best fats to cook with – because it is stable (I call it stable fat, not saturated fat) (Ref 16). It is definitely healthier than 'unstable' margarines and spreads for any purpose. But, gram for gram, in terms of nutrition, there is usually a better real food that could be consumed.
The US Department of Agriculture all foods database is my go-to reference for nutrition data. With the caveat that butter from grass fed animals would be more nutritious than the butter analysed on the USDA database, per 100g, butter is: 81g fat (51g saturated/stable fat and the rest unsaturated/unstable fat); 18g water; 0.9g protein; and 0.1g carbohydrate (Ref 17). Per 100g, butter contains 2,499 IU of vitamin A (for 717 calories); chicken liver contains 11,077 IU of vitamin A for the same weight (100g) and 116 calories. Per 100g, butter has 2.3mg of vitamin E; sunflower seeds contain 33.2mg of vitamin E for the same weight (100g) and 584 calories. Butter provides negligible amounts of calcium, phosphorus and other vital minerals.
Butter, it is argued, contains healthful short and medium chain fatty acids, and it does. But cheese – especially goats' cheese – also contains good amounts of butyric acid, caproic acid, caprylic acid, capric acid, lauric acid etc and cheese is almost as good for the fat soluble vitamins, better for the B vitamins and far better for minerals (Ref 18). That's gram for gram – cheese fares even better vs. butter calorie for calorie. The meat and milk from ruminants (cows, sheep, goats) also contain nutrients found in butter.
Adding butter to food
I first saw someone adding butter to their meal when I spoke at a LCHF conference in Norway in November 2014. Andy and I dined with other speakers the evening before the conference. We were in a top class fish restaurant in Oslo – enjoying local oily fish delights from herring to gravlaks – when I noticed the very slim, tall male opposite me asking the waiter for extra butter, which he proceeded to layer on top of his fish. We were with this male for much of the weekend and, at every meal, he added butter to his meat and eggs. He didn't bother much with veg. This was our introduction to LCHF.
I then spoke at the LCHF conference in Cape Town in February 2015 and again saw some very slim people (mostly male) adding butter to meat/eggs (they chose the fattiest meats on the menu, not fish/chicken), while largely avoiding vegetables, let alone other carbs. I asked why this was being done and the answer I got was – this is how I manage my diabetes (all the people I met were type 2, but I know some type 1s do this too). The rationale for diabetes is that we know carbohydrate impacts blood glucose and insulin. We know, not least from the work of Holt (Ref 19), that protein impacts insulin. Dietary fat doesn't impact blood glucose or insulin (Ref 20). Fat is thus the safe macronutrient for diabetics. I could see that these lean diabetics, most of them also athletes, needed to add dietary fat to their food. This was the only way for them to consume enough energy to function and to not waste away, while keeping their diabetes in remission. It was fascinating and enlightening.
However, at both conferences and a number of times since, I have observed overweight and obese people adding butter to their food. I have repeatedly advised people trying to lose weight in our on-line club not to do this. Videos like "Butter makes your pants fall off" (Ref 21) and general promotion of butter as a weight loss tool within the LCHF community seem to have made people think that the mere act of adding butter to food will make your pants fall off! However, I wonder how many people who saw the "Butter makes your pants fall off" video also saw the subsequent warnings from 'butter man', Bob Briggs, not to eat sticks of butter (Ref 22).
If the butter intake in the example table above were halved, the macronutrient ratios would be 9% carb/17% protein and 74% fat. The fact that the ratios have changed slightly should not be a concern – no more carbohydrate or protein has been consumed and so macronutrients that impact upon diabetes are unchanged. There's just less eating butter 'for the sake of it'.
If you are like the lean diabetics I have met at conferences and you're adding butter to very low carb, low protein, real food to maintain weight and energy, keep up the great work. However, if you want/need to lose weight, you might like to follow this flow diagram: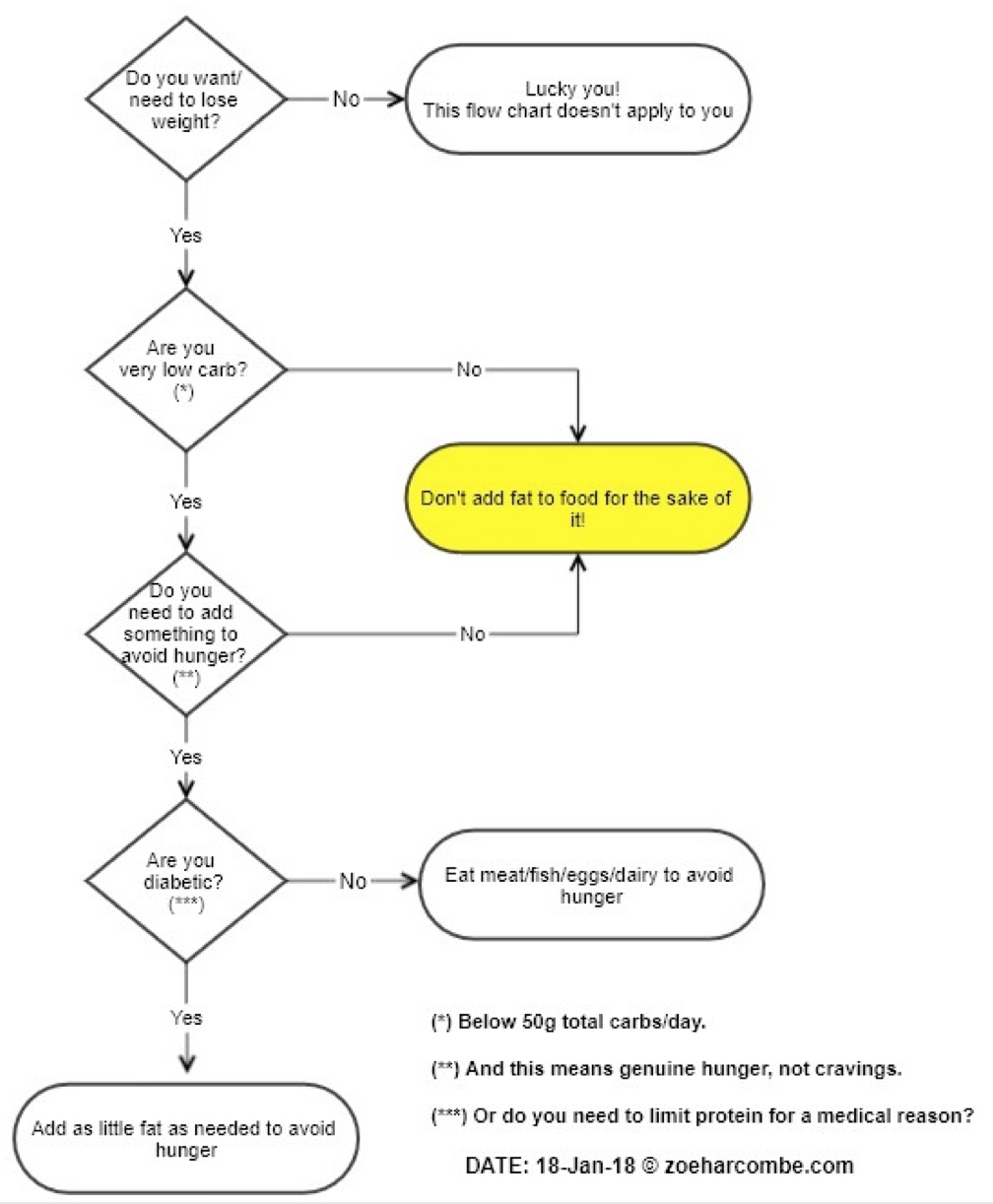 Will someone lose weight following The Optimal Diet to the gram (including 90g – or your own height equivalent – of butter)? The answer is probably. But I haven't seen much awareness of The Optimal Diet formula, let alone rigid adherence to the precise macronutrient grams that it mandates. Instead, I see obese people randomly adding large chunks of butter, on top of the same meal that I'm having, 'for the sake of it'. I'm suggesting that this is not a good idea.


References
Ref 1: Dehghan M, Mente A, Zhang X, et al. Associations of fats and carbohydrate intake with cardiovascular disease and mortality in 18 countries from five continents (PURE): a prospective cohort study. The Lancet 2017.
Ref 2: https://www.zoeharcombe.com/2017/09/the-pure-study/
Ref 3: Harcombe Z. Dietary fat guidelines have no evidence base: where next for public health nutritional advice? Br. J. Sports Med. 2016.
Ref 4: Gordon Wardlaw, Smith. A. Contemporary Nutrition. Seventh edition ed: McGraw Hill, 2009.
Ref 5: The UK report did note that 30% was likely a step too far and that 35% could be an interim goal, but 30% was the end goal.
Ref 6: Carter J.P. Eating in America; Dietary Goals for the United States; Report of the Select Committee on Nutrition and Human Needs US Senate. Cambridge, MA, USA: MIT Press 1977.
Ref 7: https://www.zoeharcombe.com/2017/04/the-optimal-diet/
Ref 8: http://nutritiondata.self.com/facts/dairy-and-egg-products/111/2
Ref 9: http://nutritiondata.self.com/facts/pork-products/2208/2
Ref 10: http://nutritiondata.self.com/facts/dairy-and-egg-products/69/2
Ref 11: http://nutritiondata.self.com/facts/dairy-and-egg-products/133/2
Ref 12: http://nutritiondata.self.com/facts/lamb-veal-and-game-products/4783/2
Ref 13: http://nutritiondata.self.com/facts/vegetables-and-vegetable-products/2356/2
Ref 14: http://nutritiondata.self.com/facts/vegetables-and-vegetable-products/2390/2
Ref 15: http://nutritiondata.self.com/facts/vegetables-and-vegetable-products/2341/2
Ref 16: https://www.zoeharcombe.com/2016/05/types-of-fat/
Ref 17: http://nutritiondata.self.com/facts/dairy-and-egg-products/133/2
Ref 18: http://nutritiondata.self.com/facts/dairy-and-egg-products/144/2
Ref 19: Holt SH, Miller JC, Petocz P. An insulin index of foods: the insulin demand generated by 1000-kJ portions of common foods. The American journal of clinical nutrition 1997.
Ref 20: Falko JM, Crockett SE, Cataland S, Mazzaferri EL. "Gastric inhibitory polypeptide (GIP) stimulated by fat ingestion in man." J Clin Endocrinol Metab. 1975. (https://www.ncbi.nlm.nih.gov/pubmed/1159045)
Ref 21: https://www.youtube.com/watch?v=h6aMN6NLOTQ
Ref 22: http://www.buttermakesyourpantsfalloff.com/no-dont-eat-sticks-of-butter/