The Irish Food Pyramid – a recipe for diabesity
I spoke at a real food conference in Ireland last weekend. When in Rome, as they say, so I thought I'd take a look at the recently (December 2016) revised Food Pyramid for Ireland.
The Food Pyramid for aged 5 years +
The standard food pyramid is shown below. This is considered to be the template for healthy eating in Ireland for everyone aged 5 years and over. Irish citizens are supposed to have 5-7 portions of fruit and vegetables a day – fruit juice is pictured, although this is now known to have as much sugar as Coca-Cola. The average person is advised to have 3-5 portions of cereals, bread, potatoes, pasta and rice – the starchy foods that we once knew made us fat (and should still). "Enjoy at each meal" is the message. Dairy should be low-fat and limited to 3 servings a day – a serving counts as 25g (less than 1 ounce) of cheese. The most nutritious category – meat, poultry, fish, eggs, beans and nuts – is allocated 2 servings a day. One serving is 100g of cooked fish or 50-75g of cooked lean meat. Check what your cooked portion weighs next time you serve meat or fish and you'll be shocked by how little is recommended of these nutrient rich foods. Finally, fats, spreads and oils are recommended to be used "as little as possible". This is good advice, given that the fats they want Irish people to use are the inflammatory vegetable oils and spreads. None of these would be a good idea.
The tip of the pyramid is good and bad – it is good to note that junk should not be consumed every day, but it is bad to have these foods at all on any diagram of healthy eating. They occupy arguable the most prominent part of the diagram – one's eyes are drawn to the top of a pyramid. It would have been good to have nothing but real food on the diagram – but then many of the breads and cereals in the starch line won't count as real food.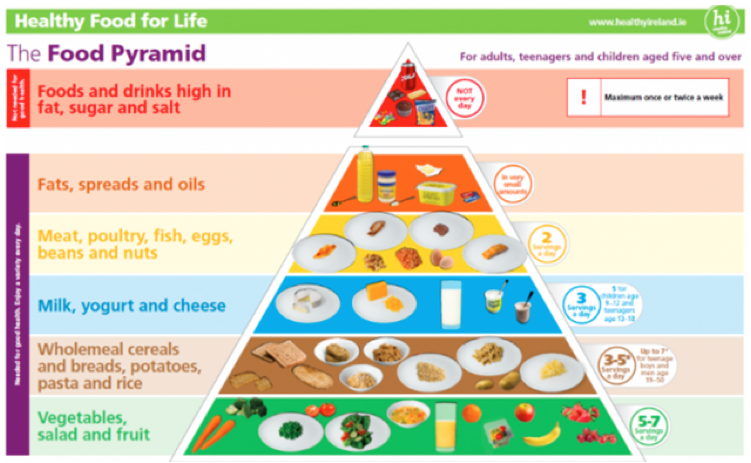 The rest of this article is available to site members, who get access to all articles plus a weekly newsletter.
To continue reading, please login below or sign up for a membership. Thank you.