Horizon: What's the right diet for you?
Last January Horizon had a diet programme. This January they had three – all on the same topic – the idea that there are three different types of (over)eaters and therefore three different diets that they should be on. It was described as "a personalised approach to dieting based on genetics, hormones and psychology".
"Hundreds of people" were invited to assessment centres in Glasgow, Manchester and London. From these hundreds, 75 were selected for the programme – no doubt the 75 that best fitted the three groups upon which the programme was based: "Feasters"; "Constant Cravers" and "Emotional Eaters". I assume that the groups were decided upon before the recruitment started.
Further tests were undertaken when the 75 people were invited to Liverpool Hope University – where they were residential for a few days.
The questionnaire
The questionnaire to find out which type you are can be found here. The 12 questions are as follows (the options for responses are in brackets):
1) Do you have the desire to eat when you are irritated or when someone lets you down? (Very often, often, sometimes, rarely, never).
2) At the end of a typical meal, how often do you feel like you haven't had enough to eat? (All the time, often, occasionally, never).
3) Sometimes when I start eating, I just can't seem to stop. (All the time, often, occasionally, never).
4) Do you have a desire to eat when things are going against you or when things have gone wrong? (Very often, often, sometimes, rarely, never).
5) If you pass a plate of biscuits or a bowl of crisps, how often will you pick one up? (Always, most of the time, very occasionally, never).
6) How often do you feel hungry? (Almost always, often between meals, sometimes between meals, only at meal times).
7) Do you eat large portion sizes? (All the time, often, occasionally, never).
8) It seems like I have food on my mind a lot (Strongly agree, agree, agree somewhat, agree a little, don't agree at all).
9) Do you have a desire to eat when you are feeling lonely? (Very often, often, sometimes, rarely, never).
10) When you are preparing food are you inclined to eat something? (Very often, often, sometimes, rarely, never).
11) When you are going through a stressful or upsetting time, what happens to your eating? (I go off food completely, I eat a little less than usual, I eat more than usual, I eat a lot more and find it difficult to control my eating).
12) When you're out at a meal with friends, do they all seem to get full before you, even when you're eating the same thing? (Most of the time, often, haven't noticed, never).
I suggest that questions 1, 4, 9 and 11 are for 'Emotional Eaters'. Questions 2, 3, 7 and 12 are for 'Feasters' and 5, 6, 8, 10 are for 'Constant Cravers'. I answered the questionnaire honestly and the conclusion was "you're not in any diet category". I tested giving the strongest positive response to each question and it said "You are a mix of diet groups: 33% Constant Craver; 33% Feaster and 34% Emotional Eater."
I also suggest that this questionnaire is about as scientific as asking someone if they smoke and then telling them that they smoke if they say yes.
The confirmation tests
The initial tests at assessment centres were supposed to indicate which group the 75 people would be in and then tests were run at Liverpool Hope University to confirm the predicted group. The Feasters were apparently identified at the initial assessment through gut hormones, GLP1 particularly. We weren't given any details about the differences in hormone levels across the hundreds of people tested, or whether they were statistically significant.
Introducing the first test for the first diet group, as Chris Van Tulleken (CVT) narrated: "The sushi supper is testing the first group: we're calling them the Feasters". This experiment involved all 75 people having a sushi supper together. They could take as many sushi plates as they liked from a conveyor belt in the dining hall. The seating was not random – name cards on the tables told people where to sit.
The outcome of the experiment was that none of the non-Feasters ate more than 14 plates of sushi; while 9 of the Feasters ate more than 14 plates. What's the significance of 14? Why not average the plates consumed by the assumed Feasters vs. non Feasters? What about the other 16 Feasters (assuming 25 people in each group)? 9 vs. 16 out of 25 suggests that two thirds of the Feaster group disproved the experiment. However, here's the key issue – all 9 people, who consumed the most plates of food – were seated within the boundaries of the conveyor belt, as this screen grab shows below.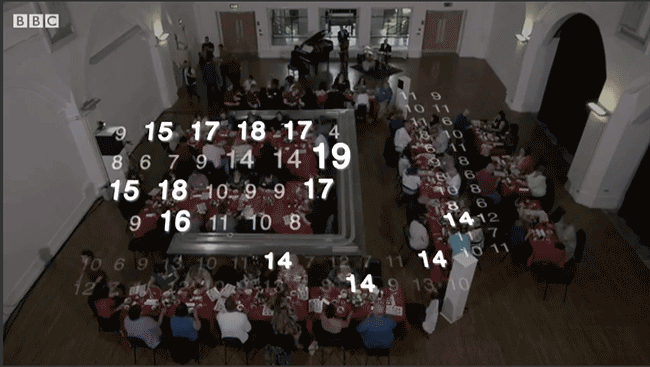 As David Curry, @dac101, also noticed on twitter "gave up on the 'science' then they "proved" group were feasters in an experiment where seating plan biased food availability."
The Emotional Eaters were identified at the initial recruitment by psychological assessment alone (back to asking someone if they eat when they are stressed/let down/lonely and then telling them they eat for emotional reasons). They were confirmed with an experiment where they were put under stress with a simulated driving test. Cortisol levels rose (in everyone) and the Emotional Eaters consumed more biscuits, chocolate and crisps than the non-Emotional Eaters. There were other items on offer – did the non-Emotional Eaters eat more sandwiches for example? The non-Emotional Eaters should, in theory, have been Constant Cravers or Feasters – why was this not an occasion where they wanted to satisfy their constant cravings or desire to feast?
The Constant Cravers were predicted in the initial assessments from genetic tests (details were not given). As CVT explained, Constant Cravers have genes that "trick their fat stores into constantly thinking they need replenishing. The result? They're hungry all the time." This one was tested with a grip test where all 75 people were given a "hearty lunch" and then 2 hours later they were given a grip meter and they had to indicate how much they wanted a particular food. Constant Cravers pulled harder for 5 out of 8 foods. How much harder? What about the other foods? We don't know. For scientific experiments, this was all very unscientific.
The theory
I just don't buy that there are different types of obese people as described in this programme. 2.7% of UK men and women were obese in 1972 and this had risen to 22.6% of men and 25.8% of women by 1999. To explain the proportion of people who have become obese, it is necessary to explain what changed. The claim in this programme is that gut hormones, genes and psychology provides the answer. I just don't buy this. We (humans and our ancestors) managed to stay slim for 3.5 million years and then hormones, genes and psychology went awry within a couple of decades and created an obesity epidemic? It just doesn't make sense.
The 'but for' is surely processed food. Would the 'Feasters' feast on the animals and vegetation of our evolutionary diet? Would the 'Constant Cravers' constantly crave wildebeest and berries? Would the Emotional Eaters be satisfied by salmon and green beans, or are they uniquely drawn to crisps, chocolate, biscuits, cake and other junk? I just don't accept that these three types override the ultimate issue, which is the processed food dominating modern diets.
The diets
The diets recommended for the three types were:
Feasters were advised to follow "a diet that makes them feel as full as possible as long as possible" – a high protein (fish, chicken, low fat milk were shown), low Glycaemic Index GI (pasta, lentils and basmati rice) diet. The group was specifically told to avoid potatoes and most rice and breads.
Emotional Eaters were advised to have group support and to follow a diet club programme (one clip showed people attending Slimming World).
Constant Cravers were put on the 5:2 diet. They were told to have no more than 800 calories a day for 2 days a week.  CVT narrated "crucially, they need to avoid carbohydrates, like bread and pasta." Professor Susan Jebb added "fruit's off; it's essentially meat, fish, eggs, veg." Perfect Paleo! Back to CVT "the other 5 days, they don't have to diet, but they should eat healthily." (i.e. they'll need to diet or the 2 days will be wasted). (The fasting days were started while the participants were at Liverpool Hope University. One man was in tears approximately 18 hours into the fast – he was no doubt suffering from withdrawal symptoms from processed carbohydrates,  but he was given no warning of this or advice as to how to ride it though.)
Even if you buy that obesity can be explained by Feasters, Emotional Eaters and Constant cravers, what would be the best diet for each type?
Feasters find it hard to stop eating, so prescribe them a diet where quantities don't matter…
Emotional Eaters want to comfort eat when life is stressful, so prescribe them a diet where quantities don't matter…
Constant Cravers want to eat all the time, so prescribe them a diet where quantities don't matter…
Whichever type you are (if you believe in these types) the best answer to all of them is a diet that allows unlimited amounts of meat/fish/eggs/veg and eliminates (e.g. Paleo) or limits (e.g. Harcombe) other carbohydrates. Any version of Low Carb High Fat (LCHF) is going to be better than all three options assigned – all of which are calorie deficit diets in different forms.
What is weight loss?
The presentation team even showed that they know this:
One of the programme advisors, Dr Giles Yeo, did a urine test with the Constant Cravers to try to encourage them to stick to the punishing regime by showing that they're burning fat.
CVT explained the only thing that this programme needs to state – what weight loss actually is: "When we eat, our bodies convert our food into sugars, like glucose, but when we fast, and there are no sugars left, our bodies turn to our fat reserves. They burn them, for energy instead, which is why we lose weight."
Dr Giles Yeo perfectly reinforced this, referring to what was happening when he observed ketones in the urine of the fasters: "When all the sugars are gone, they start to burn fat."
So the Constant Cravers didn't need to be starved; they simply needed to be starved of carbohydrates (sugars). The Feasters didn't need to be put on chicken, beans, lentils and basmati rice. They needed to be allowed to feast on pork crackling, steak, omelettes, butter and cream and they would burn fat beautifully in the absence of sugars and in the absence of hunger. The Emotional Eaters could similarly turn to fat-rich/carb-poor foods when they needed comfort. The universal solution is to limit carbs, to enable body fat to be burned. Chris and Giles say so and then the programme turns back to the overriding calorie theme that is never far away…
The sushi bowls are measured in calories. The 5:2 dieters get a depressing calorie target for 2 days a week. The exercise expert arrives, Dr Jason Gill, and everything comes down to calories – even Swiss rolls are produced to show the calorie equivalent of exercise that has been undertaken. There's a shopping experiment (message – don't shop when you're tired) – it's all measured in calories. Some of the guinea pigs have their metabolic rates checked – the calories that they needed pre-diet and the calories they need now are the numbers of interest. There's a test involving a burger – we are told how many calories it has. 'Morgan' uses 40 calories doing some shopping. The calorie obsession is omnipresent, despite the inescapable fact that weight loss is about body fat burned, is about absence of carbohydrate/sugars.
What we can still take from this programme
The first thing that we can take is the message that weight loss is about body fat burned is about absence of carbohydrate/sugars. I cannot emphasise this enough because it is all that anyone needs to know about dieting. There were some other interesting and useful take homes from this series of programmes:
1) In Episode 2, Dr Jason Gill was called in to help with an exercise plan (all 3 types were encouraged to exercise). His guinea pigs were given a sophisticated "accelerometer". The first week they were advised to do whatever they normally do, to establish their baseline activity. Then a personal trainer arrived and the (handful of) people were put through 3 exercise sessions in week 2. The accelerometer measured the steps clocked up by the group on the exercise days and the days in-between.
The baseline showed that the small group had a baseline average of 7,829 steps.  This increased to 11,271 steps on the exercise days, but then dropped back to 6,694 on the days in-between. This meant that the overall average number of steps for week 1 was 7,829 and the average for week 2 was 8,655 – not such a big difference for all the effort that people put in. This has been a key finding of the Peninsula diabetes study, where this 'compensation' for activity with subsequent reduced activity, has been repeatedly demonstrated.
Professor Tanya Byron followed this finding by narrating "While exercise is really good for your overall health, the most effective way to lose weight will almost always be to change your diet." This point was crucial and could have been emphasised much more.
2) In Episode 3 there was an interesting and useful focus on "Mo". He actually used the words "pissed off" to describe how he felt when he was putting in so much effort and losing half a pound. In Episode 2, Professor Susan Jebb had stated that losing weight requires great effort and mental energy, which I agree with, but only to an extent. I think that sticking to a calorie deficit (eat less/do more) requires way more effort and mental energy than ditching processed food, and the cravings for junk that go with consuming it, and enjoying unlimited real food instead.
The insights, throughout the programmes, from the real dieters showing the extremes of emotions that come with dieting, from hope to despair, were worth watching – if only to remind ourselves that the real food route has got to be an easier way.
3) Finally – my favourite experiment of all. In Episode 3, Professor Paul Aveyard and Professor Tanya Byron, did an experiment with the Emotional Eaters. I am confident that the outcome would apply to all dieters. 8 people were involved in the experiment which involved baking cakes. A cake was produced early on in the experiment and everyone had a slice. 4 of the group were told the truth – that the cake had 700 calories a slice; the other 4 people were told that the cake had 190 calories a slice. Later on that afternoon, they were able to eat cake that they had baked.
The group who thought they had blown their diet by having a 700 calorie piece of cake earlier, ate whatever they liked. "I've blown it, so I'll eat what I want" mentality. The group that thought they were still doing well for the day, hardly ate any further cake at all. The 'blown it' group got through almost 2 kg of cake between the 4 of them; the other 4 got through an eighth of that – barely 200g of cake between 4. This was not new. I described the 'all or nothing mentality' in my 2004 book Why do you overeat? When all you want is to be slim – and how to overcome it, but this was a great visual illustration of this common behaviour.
There was a final interesting take away from the programme. The weight loss goal for the programme was an average 5% of body weight lost in 12 weeks. As an example, that would be 10lb from a 200lb (14 stone) person. That would be expected in a couple of weeks on LCHF diets. The overall 12 week loss was 8% of body weight, which was better than expected. As with other TV weight loss programmes – Biggest Loser, Fat Club Celebrity Fit Club etc – people do better on TV weight loss programmes – at least for the time they are on TV. The regain after the programme is likely as consistent as the regain experienced by other calorie deficit dieters who have not been on TV. However, for the duration of the programme, the pressure of being in the public gaze has an impact. Sadly this is not scalable.
The most important thing to take away from this programme, however, is what Chris Van Tulleken said about 40 minutes in to Episode 1: "When we eat, our bodies convert our food into sugars, like glucose, but when we fast, and there are no sugars left, our bodies turn to our fat reserves. They burn them, for energy instead, which is why we lose weight."
So don't cut food – cut carbs.